Welcome to the HP Charity Day 2022!
We are more than excited to announce that the registration process for the Charity Day is now open until the 23rd of September!
On this celebration day you and your families and friends can access the HP campus, and enjoy a vast range of activities for adults and children! Most importantly you will know the total amount collected for the 5 projects selected this year!
How does the registration work?
•  Registration is essential to participate in the event. You should add the information required in the form below for all the participants.
•  HP employees and Contingent workers can participate. Every person can bring up to 4 guests.
•  The minimum donation to participate is 10€ per adult and 5€ per children from 5 to 12 years old.
•  The entrance includes: access to HP facilities, lunch, access to dozen of activities, check them all in the next section.
Information of the event:
Date: 8th October from 9 to 16hrs
Location: At HP Barcelona (Camí de Can Graells 1-21, 08174)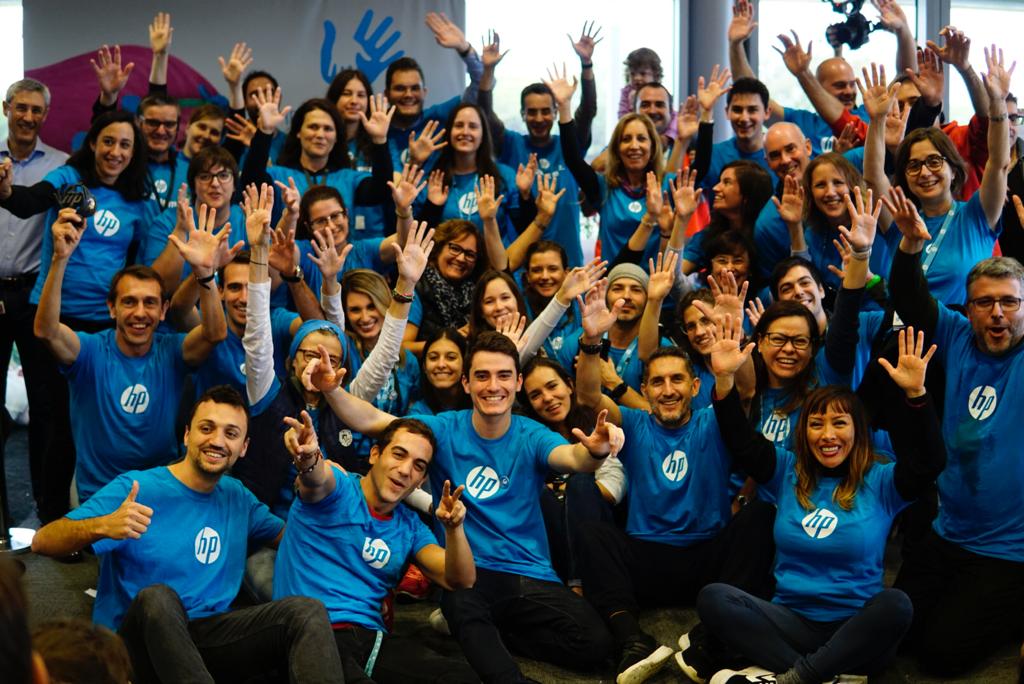 Activities of the Day
ACTIVITIES WITH REGISTRATION NEEDED
1.  TITAN RACE
Have you trained yourself to face the challenges we have prepared for you? Prove yourself running, climbing, jumping and invite your guests.
•  Registration form included in the general Charity Day Form.
•  Only for adults and open to everyone regardless of the physical conditions.
•  Minimum donation is 5€ per person.
•  It is a 3,2km circuit and entails 13 obstacles. It will last from 30 to 40 minutes to complete the circuit. You will be assigned a starting slot from 11 to 12:00hrs.
•  Locker rooms and showers will be open during the morning.
2. GRAPHIC ARTS TOURS
Technology Tour for Adults:
During this tour you and your family and friends will discover our printing technologies and applications from Indigo, 3D and Augmented Reality. During the tour you will have the chance to participate in a Kahoot contest and win amazing prices, get some gift samples, take a picture in our photo booth and many other surprises. Are you going to miss it?
•  It will be with groups of maximum 10 people. Every HP employee or Contingent worker can bring up to 4 participants.
•  Register here to participate and select the group and time you would like to participate in.
Welcome to Demoland Tour for Children:
Fairies, dragons, rainbows and elves, you can find it all in the Graphics Experience Center Children's Tour. Sign up for activities such as mini bowling with Indigo cans or a mega Jenga challenge! At the end of the tour, the children will receive a kit made with HP technology to take home with them.
•  It will be with groups of maximum 15 children. Every HP employee or Contingent worker can bring up to 4 children. (if you want to participate with your children only 1 adult is allowed)
•  We cannot accept children above 12. The Tour is adapted to children below that age.
•  Register here to participate and select the group and time you would like to participate in.
3. STEM FOR KIDS ESCAPE ROOM
•  Activity for children from 8 to 13 years old
•  We can accommodate 30 children maximum per session
•  Register here to participate selecting the slot you would like to participate
4. ZERO WASTE SHAMPOO WORKSHOP
Create your own shampoo by combining different eco materials – such as oils and plants – applying a customized formula according to your type of hair.
•  It suitable for people of all ages.
•  4 slots available from 9 to 13hrs, every hour, 20 people each slot.
•  Register here to participate with your families and friends.
ACTIVITIES WITH NO REGISTRATION NEEDED
For Children we will host activities such as: t-shirt printing, create Slime, Code your name workshop, Morse code workshop, sustainable experiments.
For everyone we will organize a scalextric racing activity, picture contest, sticker printing, MOTUS activities, car simulator, game tournamnet online, gaming influencer, Augmented reality and Virtual reality activities, Bingo, Craft Beer Talks, Zero Waste shampoo workshop, and much more!
Stay tuned for more activities!